Do you know what your strategy is?
Do you currently have a strategy to get from where you currently are to where you want to be? Is it a plan of action over a certain amount of time or is it looser in the terms of- you have a few ideas written down somewhere of ways to achieve what you want using what you have? Is it going to be the small £30,000 run-down property in Darlington, or is it going to be the £800,000 flat in Mayfair in London? Whatever it is, it is going to be very dependent on the resources that you've got available.
If you've got no money in your bank it's probably not worth looking at a two-million-pound development, and if you have got a few million pounds in your bank right now- you are probably not going to look at a small rent-to-rent property where you are going to maybe make £500 a month. By knowing those outcomes and knowing your resources, now you can get to know what strategy is right for you. These are the top 8 property investment strategies that you should know about if you didn't already.
First of all, what are strategies when it comes to property investing?
In property investing, there are many different strategies that allow you to create and grow wealth, but sometimes it can be difficult to find which strategy is right for you. People who are just starting out in the property world are more likely to struggle with this than those who are more experienced, but the best strategies for you will depend on what resources you have and what your goals are. Some of these factors might be your current financial situation, your specific goals, what time you have, what skills and knowledge you have, what kind of approach you're looking for (ie active or hands-free) and many more.
1- Buy To Lets (single occupancy)
This strategy is probably the most common of all, and while it's the least unique strategy it's one of the best for generating a long term cash flow and equity- through buying property with considerably good yields, in areas that most tenants can afford and would like to live in. This strategy is one with minimal risk being the simplest to manage and easily being able to get lending on. If this is something that you try, and it works for you, you'll be able to build your portfolio reasonably quickly with some cash.
Within the buy to let strategy includes BRR's- buy refurbish remortgage- which through the cycle of buying refurbishment and remortgaging, you are able to add value to a property and earn through the money that's released through the remortgage once you've added said value.
2- HMO's
Houses of multiple occupation are another of the most common strategies in property investing. The concept here is letting out several individual rooms (min. 3) of a property to increase cash flow and yield.
Under the umbrella term of HMO's, a sub-strategy within this includes:
Rent-to-rents, which is also known as sub-letting, where you rent a property with HMO potential from a landlord and then rent out multiple rooms yourself with a management agreement in place, creating the cash flow of an HMO but without having to buy the property.
3- Flip / Buy to Sell
This strategy is usually used if you're looking for short-term large amounts of cash, or if you're looking for the maximum return on the time invested. Property is commonly easier to flip in a market that's growing, but this can also be done in a series of different ways, here are just a few:
Major refurbishment– If you find a property with a notably large reception space, with the potential to reconfigure the spaces, you could for example, in a 1 bedroom flat create an open-plan kitchen diner and turn the old kitchen into a downstairs bedroom- allowing you to sell the property as a 2 bedroom flat.
Assisted Sale– With this strategy, you're assisting a vendor with selling their property, in other words, getting paid a sum for helping to sell their property.
4- Lease Options
Lease options are methods to go about purchasing a property avoiding the need for a hefty deposit, and taking control of the property via the lease, and giving you the right but not the obligation to actually purchase it. With this one, you don't have to pay for the property until it's completed- a method to generate cash flow with limited finances.
5- Joint Ventures
This strategy, in a nutshell, is when you joint venture with a partner, although ownership of the property is shared via a 'deed of trust'. This has many positives such as, being able to join forces with another individual who may have more or specialised knowledge and skills that you're not too familiar with, they may be more experienced, have a great network, and most importantly provide the opportunity to put your finances together to both works on the best outcome. Some approaches to this include crowdfunding, bridging loans, private loans and seller financing.
6- Delayed Completions
This is where you exchange on the property, agreeing on a purchase price with the seller, and once you've paid the agreed deposit, you get the keys, but completion of the contract is delayed for a long period of time.
This strategy allows you to add value to the property, perhaps via a refurbishment or via gaining planning permission, without having to actually buy the property, or pay the finance on the property while this is happening. The vendor sometimes receives money during his period, or, you pay their mortgage for them while you add the value. There is a host of iterations, but the main benefit being you get to add the value before you complete!
7- Commercial to Residential/ Commercial Conversions
Commercial property today is easier to convert into residential property than it ever has been previously due to old planning laws. Through changing the use of the property you could let the converted flats out for rental income or flip and sell for a shorter-term profit.
So there you have it! After more?
If you weren't completely sure of what types of strategies there are when it comes to property investing, I hope you've gained some valuable insight into the different ways for you to make and grow your wealth. As mentioned at the start, which deal is best for you is something you'll be able to work out through looking over your goals and resources, as well as what it is exactly that you're passionate about.
Want to know more? Have a complimentary call with one of our investment consultants by signing up today (www.wesellbmv.co.uk ), or, head over to my YouTube channel @Jamie York, here > https://www.youtube.com/c/JamieYork for more valuable content on property investment!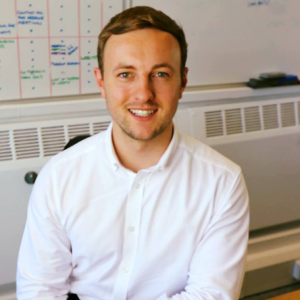 Jamie York, Director, We Sell BMV